Ah the scent of bacon sizzling in the fresh air while camping. Breakfast just seems to taste better when enjoyed outdoors. It's the most important meal of the day, right?
Start your day out right with these easy breakfast ideas and tips on your next camping adventure. You'll want to spend most of your time enjoying nature and each other vs. cooking, so K.I.S.S. (Keep it Simple Silly)! First…
5 Tips for Creating a Camp Breakfast Menu
1) Look in your pantry and refrigerator.
What food items do you already have? Ever watch Chopped on the Food Network? See what's in your basket! Cereal? Bars? Eggs? Bacon? Use what you have and then make a grocery list for additional items needed. 
2) Plan breakfasts you would eat at home or out.
What do you normally eat for breakfast? Bring it, make it ahead to heat up, or bring ingredients to cook it while camping with a campfire, propane stove/grill
 or portable BBQ
.
3) Bring an assortment of fruit. 
Pair with every breakfast. Easy to store, fresh fruit like bananas, tangerines/oranges, grapes and apples are ideal. Watery fruits, like watermelon and cantaloupe, are best to eat the first day if pre-cut or slice there to avoid spoilage. 
4) When possible, choose healthy, "clean" options.
Organic fruit/veggies (especially ones with skin you eat like grapes and berries), organic cage free eggs, natural "uncured" meats with no sodium nitrate, and food with no or minimal preservatives/artificial flavors.
5) Plan a variety of options to suit the mood.
A deluxe breakfast plan can quickly feel like a chore after too much fun the night before, or a desire to explore early and watch the sunrise. Bring a combination of options just in case.
Easy Camping Breakfast Ideas
Sorted by mood & work involved.
No-Cook, Ready to Eat Breakfast
What you'll need for storage: Just a large
 or small rolling cooler (for perishable items)
Helpful items to have: Dinnerware Set
 or Wine Backpack with plates and utensils.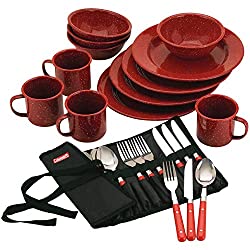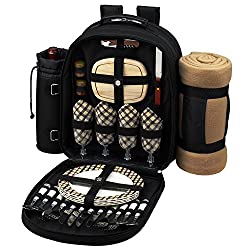 Protein, Cereal or Granola Bars
When it's hot and they have chocolate, store in cooler
Cereal
Take bag out or portion out in baggies for easy storage, and just bring milk
Yogurt & Fruit
Yogurt Parfait (fancier option)
Alternate layers of fruit and good granola with yogurt in a cup
Repeat until cup is full
Fresh or frozen blueberries, strawberries and/or raspberries work great with vanilla yogurt, or use raw honey to sweeten plain Greek yogurt
Hard-Boiled Eggs
Boil ahead, let cool and store in a baggie in the cooler
Season with salt/pepper (wine backpack has small shakers) and/or hot sauce, or slice and wrap in a tortilla with salsa, avocado and a sliced tomato for a cold breakfast burrito
Baked Goods
Store bought or bake ahead at home
Local Natural Food stores or chains, like Sprouts, Whole Foods or Trader Joes, have great, pre-made healthier options (If in North San Diego, Frazier Farms is our favorite)

Coffee Cake, Strudel
Scones, Pastries
Cinnamon Rolls
Muffins like blueberry, banana nut
Baked breads like banana, orange cranberry
$$ MONEY SAVING TIPS:
Freeze an

almost

 full gallon of water or bottles for a small cooler, to keep food cool vs. wasting money on ice (and possibly ruining your food when it melts).
Pour milk needed for cereal and/or coffee from your current stash into an empty, washed salad dressing or juice container vs. purchasing small milk cartons. Do the same for juices you only need a small portion of, like for mimosas!
Breakfast with Minimal Heating Up Needed
What you'll need for storage and heating up: A large
 or small rolling cooler, campfire, Gas Grill/Stove
, Gas Portable Grill
 or nice 
all in one combo
.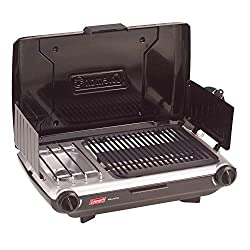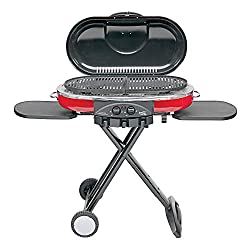 Helpful items to have: Dinnerware Set
 or Wine Backpack with plates and utensils, and a 4-In-1 Outdoor Table to prep food and/or put stove on (especially for areas without a picnic table).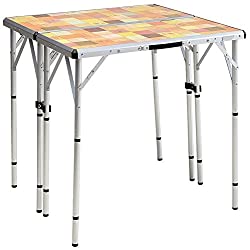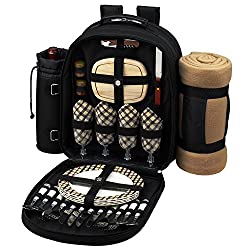 Toast with Toppings
Toast bread or English muffins on the grill or campfire and add a topping:

Butter/Ghee with jam, nut butter (peanut, almond, etc.) or cinnamon
Avocado (spread on toast), sliced tomato and hard-boiled egg (boil ahead), topped with salsa or hot sauce
Bagels & Cream Cheese
Toast bagels on stove, grill or campfire and add your favorite cream cheese
Bagels with Lox (fancier option)
Top plain or "everything" bagels with plain or chive cream cheese, smoked salmon/Nova lox, lemon juice, drained capers and fresh dill (optional: cucumbers, tomatoes & avocado)
Oatmeal
Add hot water (heat in Coffee Percolator or pan) to instant oatmeal cups or packets in a bowl, then add toppings like milk, nuts, dried or fresh fruit, brown sugar, or honey
"I'm making waffles!"
Bring frozen waffles (they thaw in cooler), heat up/toast on grill
Add toppings like butter, fruit, pure maple syrup or raw honey (place bottle in a baggie in case of a sticky spill)
Breakfast Burritos or Sandwiches
Make ahead with any combo of cooked eggs, bacon, ham or sausage, veggies and/or cheese, wrap in foil and heat up (or cook eggs/meat ahead, heat up & make there)

Burrito: roll up in a tortilla
Sandwich: on bread, a hamburger bun, English muffin or croissant (toast if desired)
Egg Frittata Muffins
Make ahead and just heat up in a pan or foil

Grease a muffin pan
Beat 6-8 eggs or egg whites with a little milk, salt and pepper
Add raw or cooked veggies you have like peppers, spinach, zucchini and mushrooms, and/or crumbled cooked bacon or sausage, to each cup
Top with beaten eggs and a little shredded cheese
Bake for 20 minutes at 350 degrees
Cool and store in baggies or foil in the cooler
PREP TIPS:
Pre-cut or portion out

 topp

ings in separate, labeled baggies for easy storage. I sometimes put baggies together for a specific meal in a larger, labeled baggie, like "bagels with lox toppings" or "for oatmeal".
If you camp often, keep a set of frequently used items like seasonings, coconut/olive oil, hot sauce, coffee (ground or instant) and condiments in a bag ready to go.
What you'll need for storage and cooking: A large
 or small rolling cooler, campfire, Gas Grill/Stove
, Gas Portable Grill
  or nice 
all in one combo
.
Helpful items to have: Dinnerware Set
 or Wine Backpack with plates and utensils, a 4-In-1 Outdoor Table to prep food and/or put stove on, or to really camp like a boss, a camp kitchen! Great camp kitchen options are Cabela's Deluxe or Outsunny Deluxe.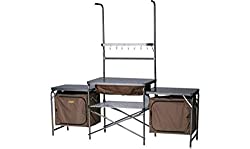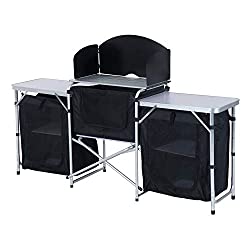 Egg Breakfast
Any egg dish you'd cook on the stove at home! Our favorites:
Eggs with Bacon, Ham or Sausage
Prepare eggs your favorite style in a pan or foil, scrambled is the easiest
Cook bacon, ham or sausage in a pan or make-shift foil pan
For variety, cook eggs with veggies like spinach, onions, peppers or mushrooms, and/or sausage, ham or bacon small pieces/crumbles (vs. on the side)
Omelet or Frittata
If your camp stove works well on a "low" setting, make the above into any omelet or frittata you do at home (ours doesn't, gets too hot so ends up as a scramble)
Chorizo and Eggs
Buy fresh chorizo from a Mexican Market or Natural Food store when possible (vs. the runny kind that might give you the runs). Frazier Farms has a great low-fat chicken chorizo if you're near North San Diego

Cook chorizo then add beaten eggs until cooked
Warm tortillas on grill and serve with desired toppings like salsa or hot sauce, sour cream and cilantro
Fresh Breakfast Burritos or Sandwiches
Same idea as above but made fresh. Ah the smell of bacon or sausage cooking while camping!

Heat up tortillas or toast buns then add ingredients
If using cheese, melt on top of eggs in pan before adding to burrito/sandwich
Sweet and/or Savo

ry 

Br

eakfast
Sweet and/or savory dishes you'd cook on the stove at home with a camping twist. Our favorites:
Biscuits & Gravy
Bake biscuits at home, store-bought or from scratch, cool and store in a gallon baggie
Heat up in foil or directly on the grill (check often to avoid burning)
Cook sausage and make country gravy either from a packet or scratch
Pancakes
Make batter at home and freeze in a large gallon baggie (let thaw in cooler)
Cut corner of baggie and pour enough for each pancake in a pan or griddle
Serve with desired toppings like pure maple syrup, honey and/or fruit
French Toast
Dip slices of bread in a bowl of beaten eggs with a little milk and cinnamon, cook in pan
Serve with desired toppings like pure maple syrup, honey and/or fruit
To add more protein to any of the sweet/savory ideas above, cook up sausage links or bacon too!
Easy Breakfast Drink Ideas
Kombucha
Keeps you healthy with probiotics while camping, especially after too much drinking!
Coffee
Morning coffee is the best while camping, just heat up in a Coffee Percolator & bring your favorite condiments like honey, sugar, milk/cream, cinnamon

Remember coffee cups or improvise with strong wine glasses when you forget!
Fresh Juices
Orange, pineapple or cranberry are great choices (use in your adult beverages too!)
Mimosas or Sparkling Hard Cider
Sparkling wine, Ballatore is our go to, with O.J. or spiced apple cider
Savor every bite of these easy breakfasts on your next camping adventure or even at home!
For lunch and dinner ideas, check out Camping Meals Made Easy with Your Hot Grill-friend.
What other camping breakfasts do you love? Recipes? Please share below, we'd love to try them and add to the list. Do share this post as well, spread the joy of camping. 
Cheers to amazing breakfasts and enjoying them often in nature!
Jarly
More great tips for you: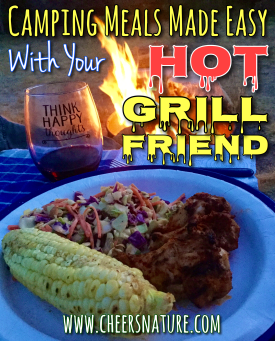 Great Places to Camp & Hike:
Southern California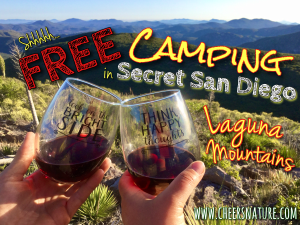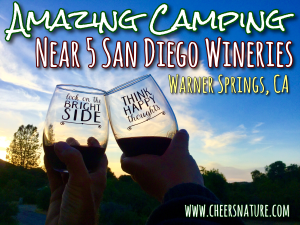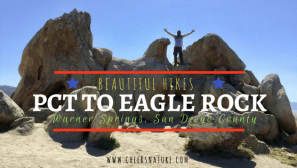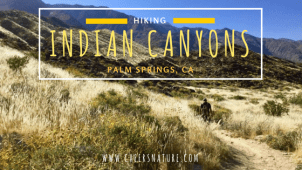 Related