Though this was made over a campfire, it is quickly adaptable to be made in the house on the range top. That's the charm of cast iron– it can be used inside and outside. I've lastly gotten my "inside usage" Dutch oven and frying pan to where they are pretty darn well seasoned.
The skillet I used while we were outdoor camping, however, has been on hundreds of camping trips with me. The skillet is so perfectly skilled that it puts my pieces to shame. I guess I have something to work on, eh?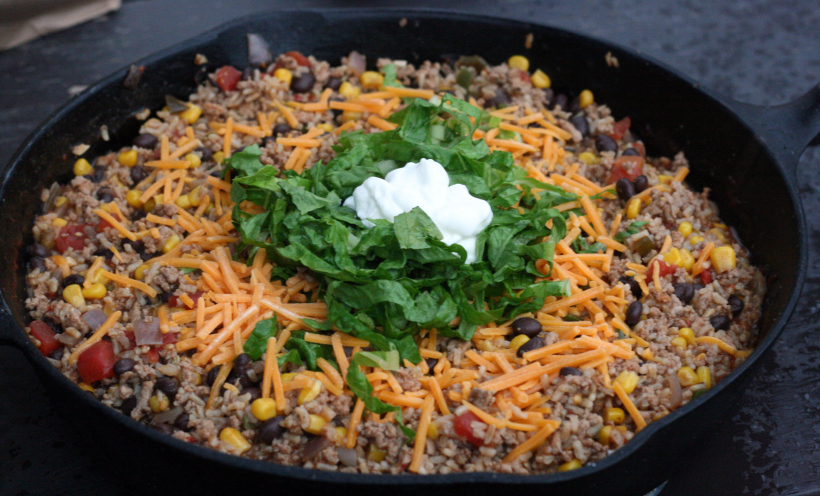 Turkey and Rice Taco Skillet
serves 4 – 6
2 cloves garlic, minced
1/2 red onion, diced
1 jalapeno, minced (seeded if desired)
1.25 pounds lean ground turkey
1 packet hot taco seasoning mix
4 cups water, divided
3 cups Minute Brown Rice
1 – 15 ounce can corn
1 – 15 ounce can black beans, rinsed and drained
1 – 14.5 ounce can chopped tomatoes with jalapenos
1 cup shredded extra sharp cheddar cheese
2 cups shredded romaine lettuce
sour cream to garnish
olive oil spray
Spray a large 12″ cast iron skillet with olive oil. Add garlic, onion, and jalapeno and cook over the fire (or medium-high heat) until onions are tender. Add the turkey and cook until browned, about 5 minutes. Stir in taco seasoning and two cups of water. Bring to a simmer and stir in rice and remaining two cups of water. Let simmer for 10 minutes, stirring occasionally. Stir in tomatoes, beans, and corn and continue to cook, stirring occasionally, until liquid is absorbed.
To serve, divide between 4 – 6 bowls. Sprinkle with lettuce, cheese and top off with sour cream.