It's been many days and I still smell campfire all over I go. I finally understood that it wasn't my clothing, hair, or skin. The smell has in some way permeated into my glasses. I've soaked and scrubbed them, however to no avail. I like campfires, but this is a little much! I think from now on I'll need to camp sans-glasses. Essentially blind. I may end up just falling into the campfire …
When you're camping, the fewer meals to wash, the much better. Seriously, I'm so identified to keep my dirty meals to a minimum that I consumed directly out of the pan rather of soiling 2 plates. This one-pan meal takes minutes to throw up and minutes to tidy up. Try baking this in the oven if you do not have a fire to prepare over!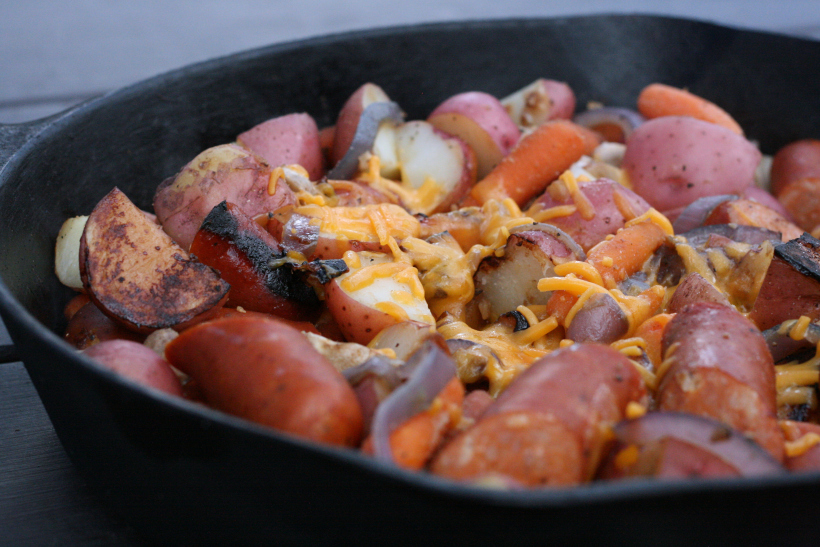 One Pan Sausage Skillet Dinner 
serves 4 – 6
1 tablespoon olive oil
1 1/2 pounds baby red potatoes, cut into 1-inch pieces
1/2 large red onion, sliced into 1/4-inch pieces
2 cloves garlic, minced
1/2 pound baby carrots
1/2 pound mushrooms, halved (quartered if large)
12-ounce package of chicken sausage (I used Johnsonville's Chipotle & Jack sausage)
4 beef bouillon cubes, crushed
1 teaspoon onion powder
1 teaspoon garlic powder
1 tablespoon dried minced onion
1/2 teaspoon freshly ground black pepper
2 tablespoons low sodium soy sauce, chicken broth, or water
shredded cheddar cheese, optional
Coat a large cast iron skillet with olive oil. Arrange potatoes on the bottom in an even layer. Spread onions, garlic, carrots and mushrooms evenly on top. Arrange sausage over the vegetables.
In a small bowl, mix together beef bouillon, onion powder, garlic powder, dried minced onion, and black pepper. Sprinkle spices and soy sauce over the sausage and vegetables. Cover the skillet tightly with heavy-duty foil and cook over a fire for 20 – 30 minutes, stirring once or twice, until potatoes and carrots or tender and sausage is cooked through. Sprinkle with cheese, cover and return to fire for an additional 1 – 2 minutes or until cheese is melted.